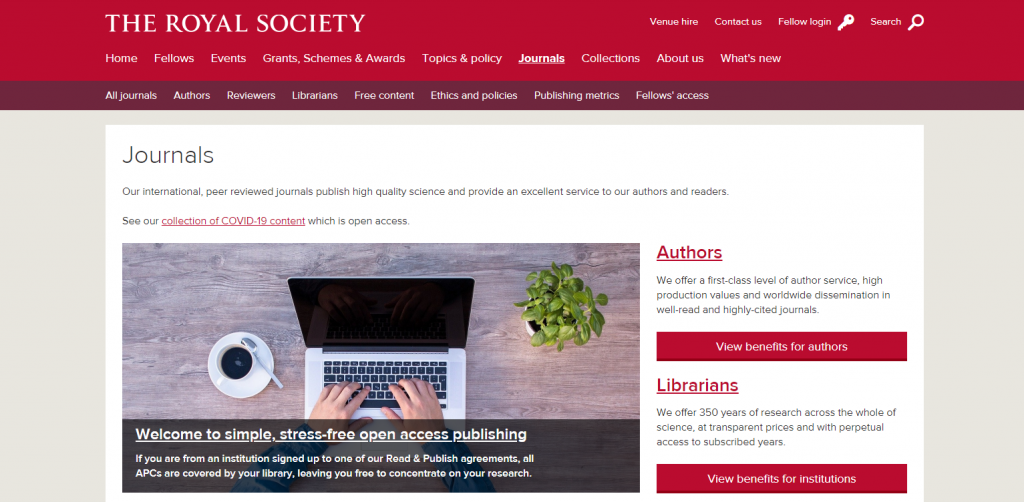 The Society published the first ever scientific journal, Philosophical Transactions in 1665. It pioneered the concepts of scientific priority and peer review which, together with archiving and dissemination, provide the model for almost 30,000 scientific journals today. Today the Society publishes a range of scientific journals covering the breadth of scientific disciplines including its most recent publication, Royal Society Open Science.
Access URL: Royal Society Journals 
Please see below for the URLs that users can access the journals from.
http://royalsocietypublishing.org/journal/rsta
Philosophical Transactions of the Royal Society series A
http://royalsocietypublishing.org/journal/rstb
Philosophical Transactions of the Royal Society series B
http://royalsocietypublishing.org/journal/rspb
Proceedings of the Royal Society series B
http://royalsocietypublishing.org/journal/rspa
Proceedings of the Royal Society series A
http://royalsocietypublishing.org/journal/rsbl
Biology Letters
http://royalsocietypublishing.org/journal/rsfs
Journal of the Royal Society Interface
http://royalsocietypublishing.org/journal/rsif
Interface Focus
http://royalsocietypublishing.org/journal/rsnr
Notes & Records
http://royalsocietypublishing.org/journal/rsob
Open Biology
http://royalsocietypublishing.org/journal/rsos
Royal Society Open Science
Expiry: 1 August 2021