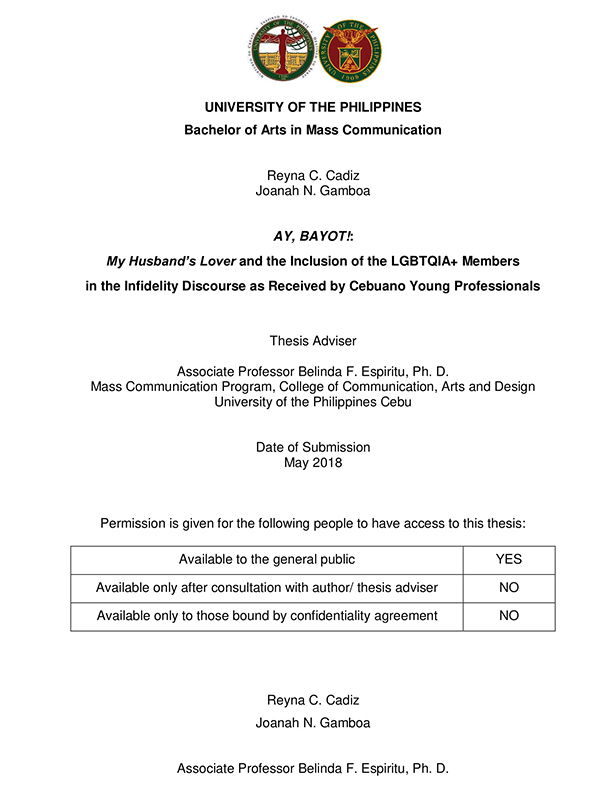 Ay, Bayot!: My Husband's Lover and the Inclusion of the LGBTQIA+ Members in the Infidelity Discourse as Received by Cebuano Young Professionals
by Cadiz, Reyna C.; Gamboa, Joanah N., 2018.
---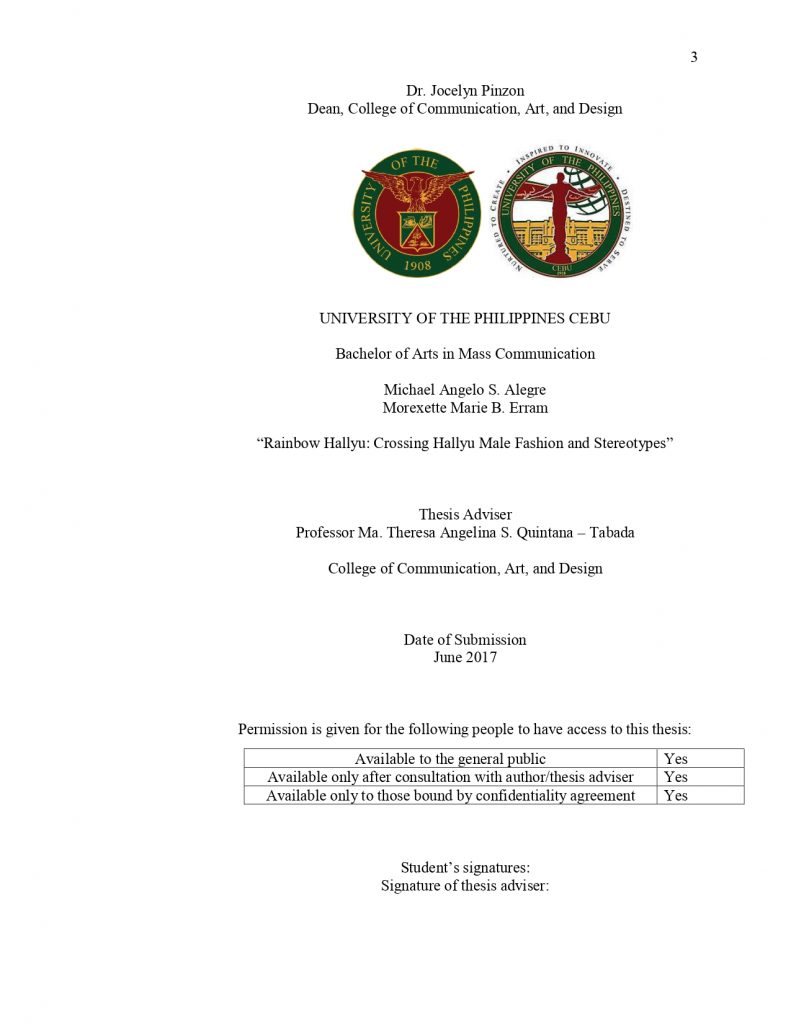 Rainbow Hallyu: Crossing Hallyu Male Fashion and Stereotypes
by Alegre, Michael Angelo S.; Erram, Morexette Marie B., 2017.
---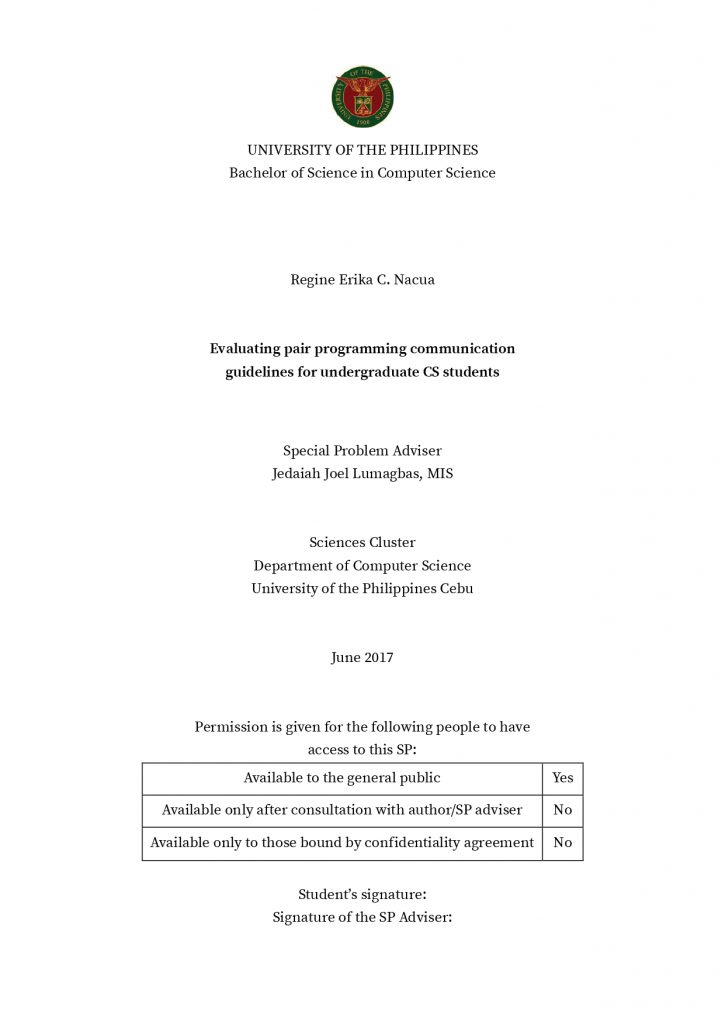 (Special Problem)
Evaluating Pair Programming Communication Guidelines for Undergraduates CS Students
by Nacua, Regine Erika C., 2017.
---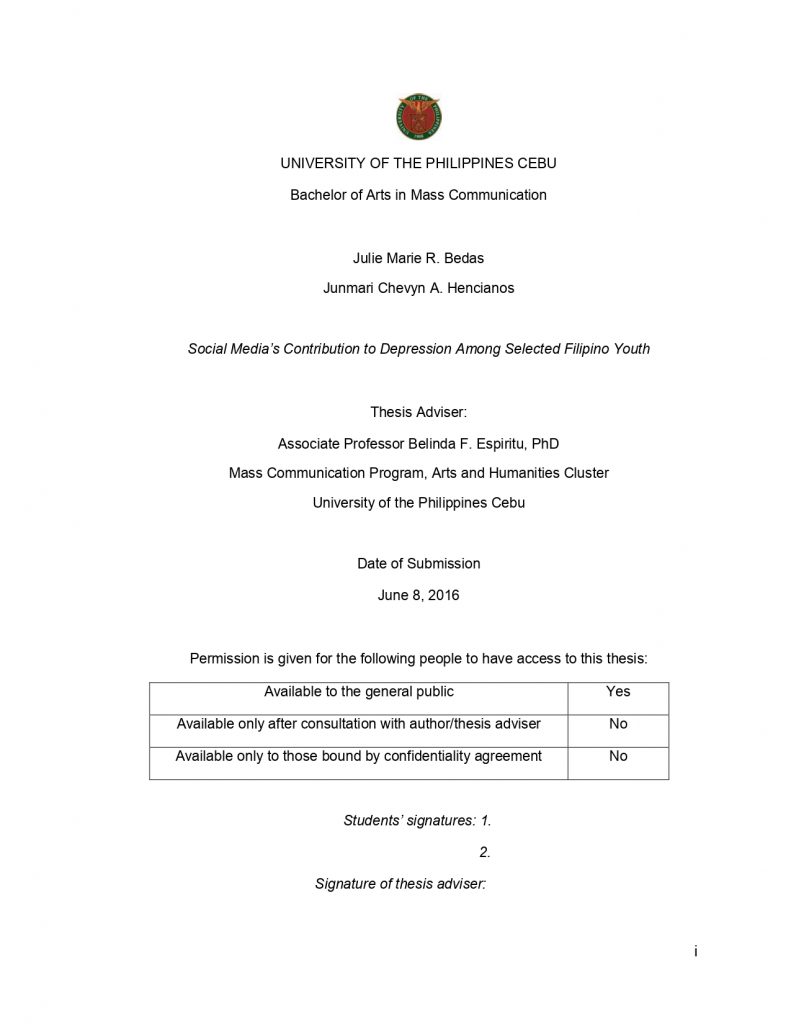 Social Media's Contribution to Depression Among Selected Filipino Youth
by Bedas, Julie Marie R.; Hencianos, Junmari Cheryn A., 2016.
---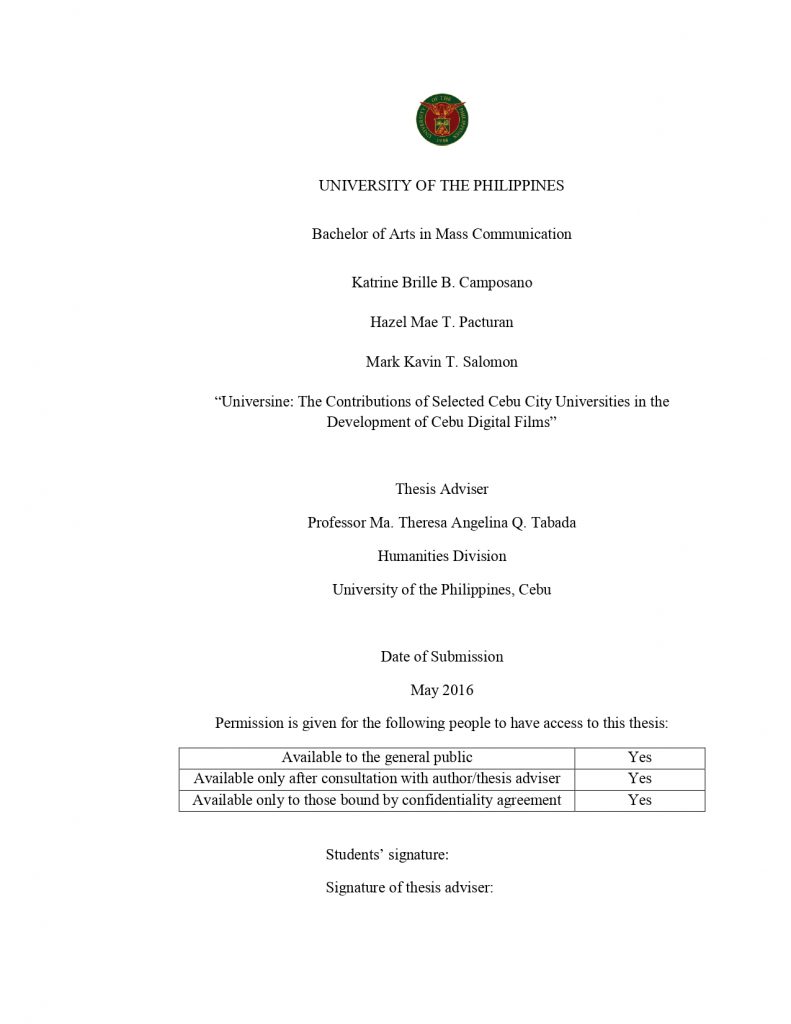 Universine: The Contributions of Selected Cebu City Universities in the Development of Cebu Digital Films
by Camposano, Katrine Brille B.; Pacturan, Hazel Mae T.; Salomon, Mark Kavin T., 2016.
---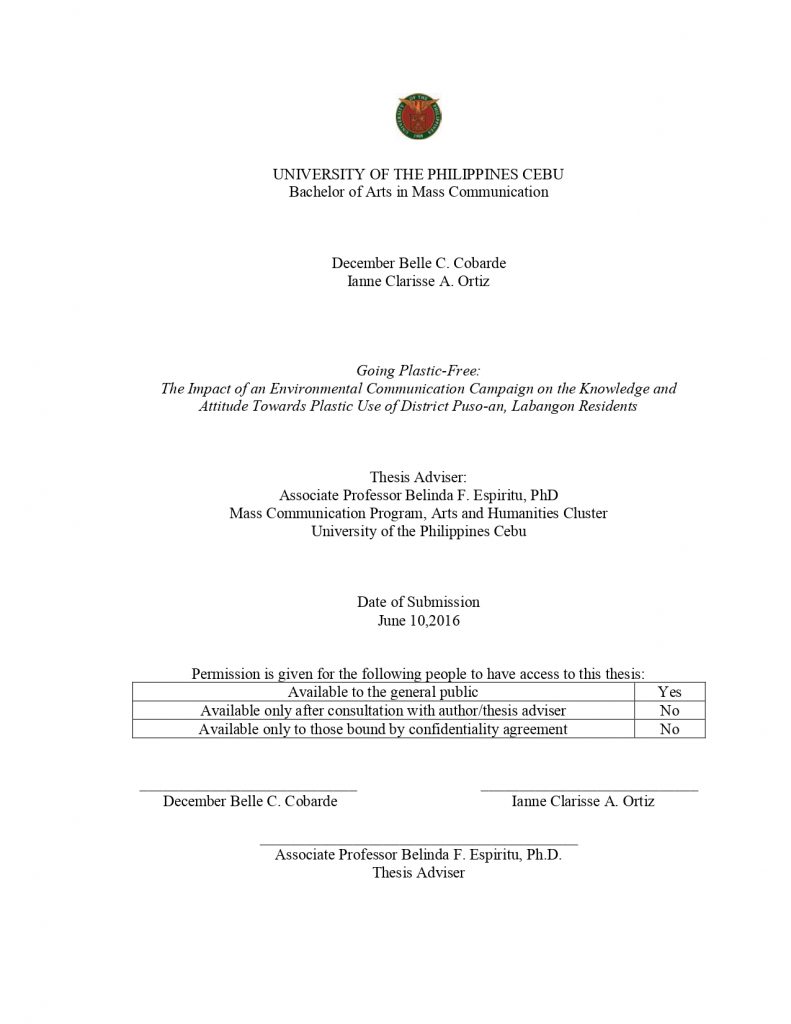 Going Plastic-Free: The Impact of an Environmental Communication Campaign on the Knowledge and Attitude Towards Plastic Use of District Puso-an, Labangon Residents
by Cobarde, December Belle C.; Ortiz, Ianne Clarisse A., 2016.
---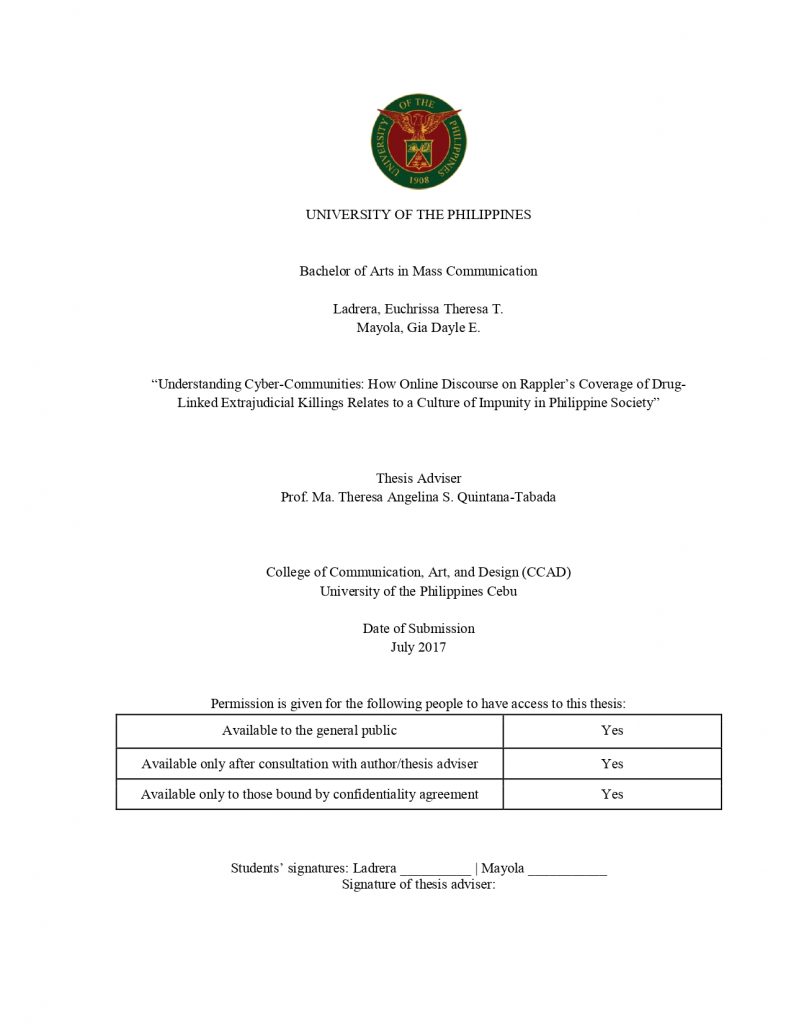 Understanding Cyber-Communities: How Online Discourse on Rappler's Coverage of Drug-Linked Extrajudicial Killings Relates to a Culture of Impunity in the Society
by Ladrera, Euchrissa Theresa T.; Mayola, Gia Gayle E., 2017
---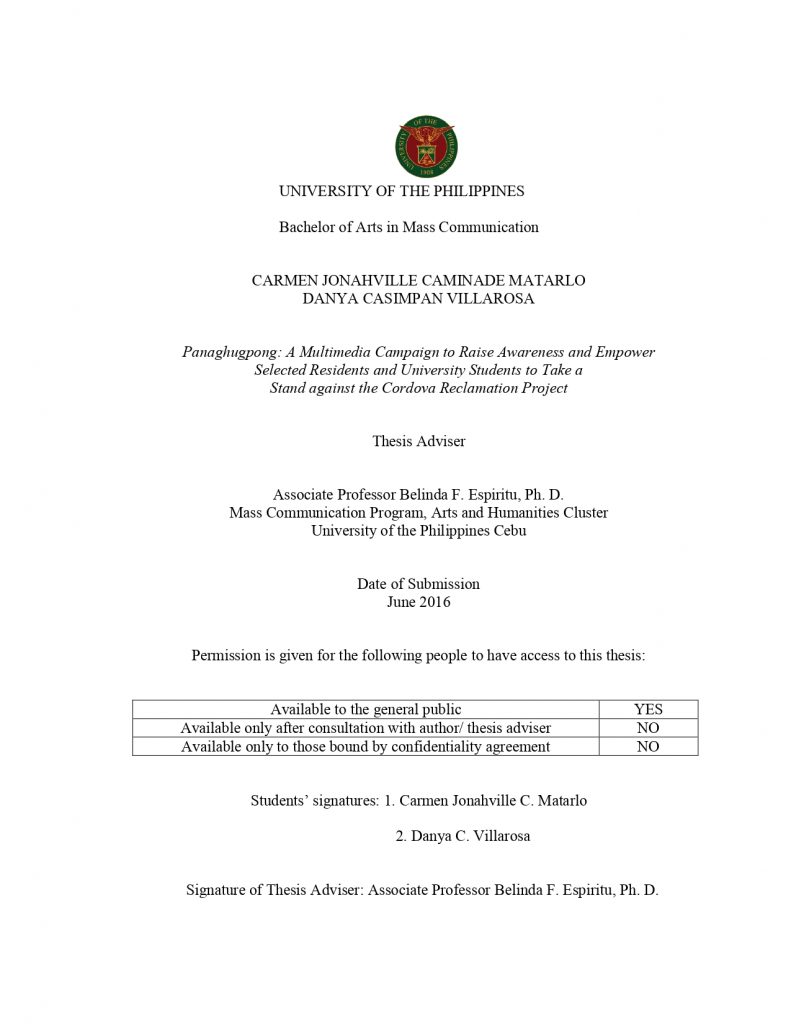 Panaghugpong: A Multimedia Campaign to Raise Awareness and Empower Selected Residents and University Students to Take a Stand against the Cordova Reclamation Project
by Matarlo, Carmen Jonahville C.; Villarosa, Danya C., 2016
---